What Makes a Virtual Data Room Secure?
The modern world makes companies face many unique issues we didn't have even a decade ago. And one of such challenges is digital data security. Any business has to deal with enormous quantities of information, and its amount only increases. But the problem is not only with the management of data. Companies also need to protect it somehow because data leaks are extremely expensive and draining. In fact, they can ruin the reputation of the firm and, consequently, the business itself. That's why the company starts to use specialized secure business software that guarantees 99% uptime of online data security. Thus, virtual data rooms became a vital tool for every company that needs a secure way to exchange documents with clients. Virtual data room is the most secure website for online deals; business software for work with highly confidential information that is confirmed and guaranteed by international organizations certificates.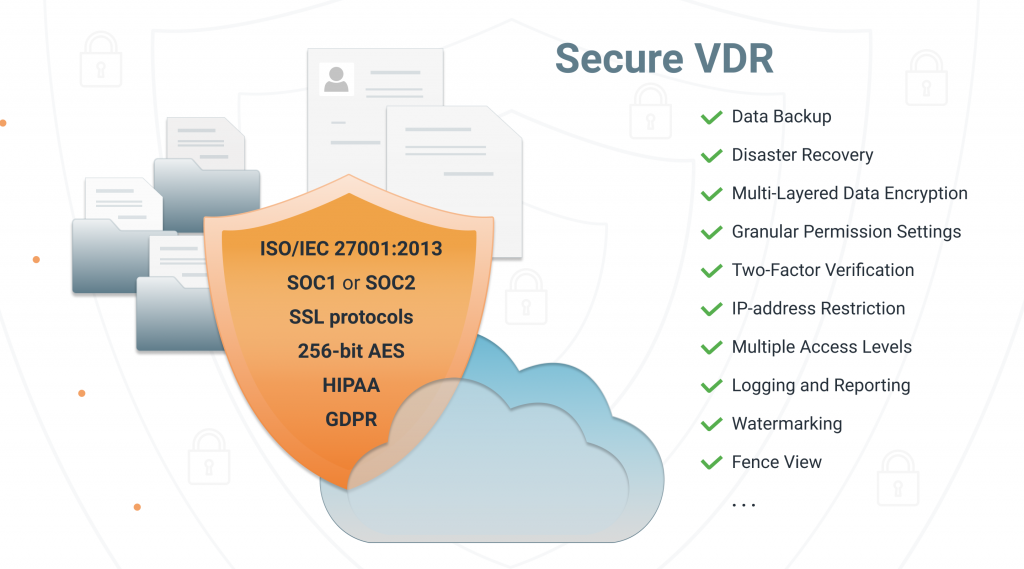 The most secure virtual data room providers annually confirm the quality of software and compliance with all information security standards. When choosing a secure VDR provider pay attention to the availability of certificates that ensure data room documents security:
ISO/IEC 27001:2013 Certified Data Centres
SOC 1 or 2 according to SSAE standards
GDPR Compliant
HIPAA Compliant
These are the basic international standards each secure data room provider has to have. Before choosing a VDR provider customers should check the availability of listed certificates. Also, one of the vital advantages of the digital data room is that the VDR provider is responsible for online data security that is confirmed by the contract.

Secure Data Room Features
Data Backup
Disaster Recovery
Multi-Layered Data Encryption
Granular Permission Settings
Single Sign-On
Two-Factor Verification (2FA)
IP-address Restriction
Multiple Access Levels
Integral Document Security
Antivirus Protection
Screenshot protection
Service-level Agreement
Customize Document Permissions
Logging and Reporting of Users Activity
Dynamic Watermarking
Fence View
Secure Spreadsheet Viewer
No Footprints in random access
Remote Wipe & Shred – ability to set the timing for using documents.
Physical Data Protection Guarantees mentioned in NDA
Restriction for Viewing
Customer-Managed Encryption Keys (Key Vault Location)
Many businesses think that they can stick to generic cloud services to store and exchange corporate documents. And that's a big mistake because such platforms are not reliable enough to trust sensitive information. That's why you should consider using a virtual data room instead.
VDR providers protect both the repository with documents and data transfer ways with the strongest 256-bit encryption. Thus, malefactors have no chances to break into the data room and steal or corrupt your corporate information. And that's not the only method of data protection providers use.
A secure online data room will have two-factor authentication that will prevent unauthorized access. This technology will ask users to prove their identity not just by entering the login information. Usually, they will have to enter a code sent via an SMS or email upon logging in. But often vendors offer several options.
In addition to that, the manager of the data room can set different levels of access for users deciding what they can and cannot do with uploaded documents. Such a feature gives the business complete control over what's going on in the secure data room and ensures privacy. Also, the administrator can track all the user activity – what documents did they access, what did they do with them, and for how long. This information allows for detecting suspicious activity in secure VDR. Moreover, it can give the business owner many valuable insights about the deal and the intentions of third-parties.
The most secure data room providers allow users to set a document expiration for the accounts of invited third-parties. It will protect the information by cutting access to the repository automatically when the deal is over. Also, some VDR vendors offer a remote data shredder that will be a lifesaver when certain accidents happen.
Customizable watermarks ensure that your documents can not be used by third parties. The secure data room allows customizing the watermarking settings. The administrator chooses the watermark view for example user's name, IP address, date and time of access, logo. It helps to prevent the leakage of information within the company among employees.
Finally, virtual data rooms offer businesses detailed reports that can bring valuable insights. Studying these statistics entrepreneurs can see how well the company performs, and what they can do to make the next deal be even more successful. Also, reports are useful during the deal – they can help you make better data-driven decisions and be sure to keep data confidential.
How to Determine the Most Secure Virtual Data Room?
Provide an overview of provider ratings and reviews
Choose the certified virtual data room software
Ask for appropriate data security certificates
Check out the list of secure data room services
Determine what security guarantees are provided in each tariff plans
Check out the contract, pay attention to the providers' responsibilities
Define the most secure data rooms
The virtual data room market is crowded with a lot of providers, but not all of them comply with international standards and requirements. It is best to consider the most rated and well-known VDR providers, as you can easily find information about the company and study the real reputation of the secure VDR software. It's difficult to find relevant information about less well-known suppliers, so you will have to contact the support service of the provider. Also, choosing the safest VDR software, it is recommended to read customer reviews in order to discover the level of customer satisfaction and security guarantees.
It is crucial to invest some time in choosing the right service. And our detailed reviews will, for sure, help you with this task. If you have some questions, contact us