Data Room for IPO and Diligence Management
Companies use several completely different software tools for working with confidential information. Virtual data rooms software offers several IPO solutions at the same time. Initial Public Offering process is one of the most important but complex business processes. In the modern world, a company must be prepared to manage large amounts of information, ranging from financial audits by investors, auditors and regulatory authorities to continuous cooperation between investment bankers, lawyers and accountants.
VDRs are increasingly stimulating transactions for the investment banking community. And as they become necessary in the M&A business, the growing IPO market will also need them because of the safety, efficiency and economy that they provide.
So what is it about virtual data rooms that make them so important to the investment bankers and the clients they serve, especially when it comes to IPOs? How does Data Room help with IPO processes?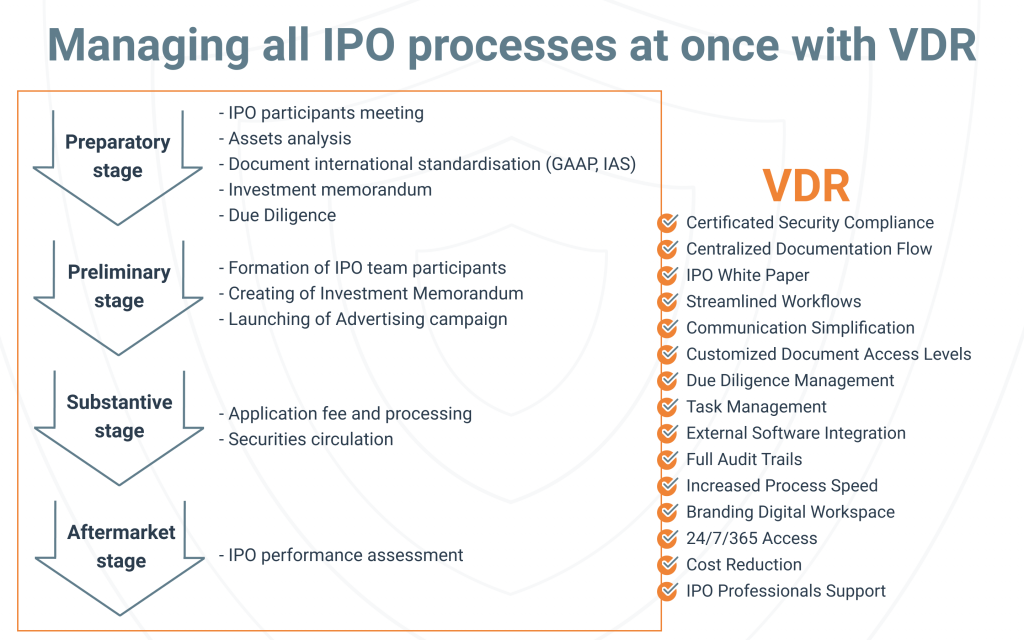 Benefits of Virtual Data Room for IPO
Certificated Security Compliance. An online data room is a software that passes international data security certification. VDR suppliers guarantee high security of confidential data, VDR services are guaranteed by the presence of international security certificates and a non-disclosure agreement.
Centralized Documentation Flow. All necessary documentation is located in one digital platform, which is fully regulated by the administrator of the data room.
IPO White Paper. Consumers of VDR do not need to develop an IPO template for each new project. Experienced VDR providers provide white papers for IPO according to your needs and goals, based on your own experience.
Streamlined Workflows. The VDR platform is fully customized for ease of use for IPO: routine work processes are automated, saving resources and time. Cloud software improves user productivity and process efficiency.
Communication Simplification. No need to use email or other communication software. Thus, you exclude conversations and letters. VDRs provide advanced Q&A features. This feature allows interested parties to discuss documentation within a single secure platform. Also, the entire history of questions and answers in the IPO process is preserved.
Customized Document Access Levels. VDR is a very flexible document management platform. The administrator can configure several levels of access to certain files. It is possible to create working groups that will have access only to a specific package of documents. The entire process of working with information is regulated by a hierarchical system.
Due Diligence Management. Doing due diligence online is one of the basic functions of a digital data room. The responsible person uploads all the necessary documents to a safe space and sends out an invitation to access the VDR for the audit. Access levels and process participants can be changed at any time.
Task Management. Ability to manage and monitor tasks from status and personal entities. Convenient task management makes it possible to see the situation as a whole, control the progress of the process, eliminate unnecessary tasks and avoid duplicates.
External Software Integration. Sync from other sources. Integrate with popular tools like Google Drive to pull in information without any extra steps.
Full Audit Trails. Tracking and analytics of user activity is another unique feature of VDR. User activity reports provide an opportunity to see the interest of potential investors, give companies an understanding of what their potential investors are looking at. Working with such data makes it possible to more carefully and efficiently plan an IPO due diligence strategy.
Increased Process Speed. The IPO process is an active communication of several participants in this process, for example, a public firm, bankers, lawyers, auditors, venture partners, and many others. VDR provides the ability to implement several processes at once in a virtual space with an intuitive interface. Also, access to the online data room platform for collaboration, which provides multi-level protection, can be carried out from anywhere in the world.
Branding Digital Workspace. Opportunity to customize your VDR working space according to brandbook. All potential shareholders will be immersed in the philosophy of your company at the level of preliminary verification.
24/7/365 Access. Highly secure VDR dataroom allows for 24/7 access. Depends on VDR provider you can manage your digital space using a mobile, tablet or other devices with any operating system. VDR unsure access to files and documents at any time.
Cost Reduction. Electronic data room providers offer several tariff plans for cloud services. Nevertheless, using the VDR data room is beneficial and less risky than using a physical data room with additional not secure software products.
IPO Professionals Support. When you select a virtual data room provider for IPO, tech support is not only a tool for solving user issues. Technical support is involved in customizing the structure of your data room. Considering the purpose of using VDR, your personal manager will offer you a structure according to your needs for the maximum convenience of the Initial Public Offering process.
Initial Public Offering process with VDR
Preliminary IPO stage
At the beginning of going IPO process, the company needs to analyze all its financial and economic situation, organizational structure and asset structure and other aspects of the activity. This stage, as a rule, begins long before the immediate circulation of shares or bonds on the stock exchange. At this stage, the company must take the following steps:
IPO participant's meeting. Making a decision on the need for an issue. Organizational meeting with all members of the working group involved in the IPO: owners. management and top managers of the company, independent auditors, investment banks and underwriters, as well as legal advisers and representatives of underwriters.
Assets analysis. A preliminary analysis of the financial condition and structure of assets in order to determine the current level of corporate governance quality, current and target parameters of the structure and cost of capital, as well as transparency of the company's financial statements.
Document international standardization. Bringing financial statements in accordance with international standards (GAAP, IAS).
Investment memorandum. Development of a business plan and justification of investment attractiveness of investments in company securities.
Due Diligence. At this stage, a comprehensive check of the financial and economic activities of the company and its management by potential investors, partners, organizers and regulators is carried out with a view to the final readiness of the company for an IPO. The due diligence procedure is carried out by our own and involved legal consultants, company auditors, as well as employees of the underwriter and financial market regulator.
Preparatory IPO stage
On the basis of the results of the preliminary stage, the decision on the prospect of IPO is finally made. After this decision, the IPO process moves to a new phase – preparatory. The preparatory phase of the IPO consists of the following basic stages:
Formation of IPO team members. A team of IPO process participants is selected to develop an IPO implementation and configuration plan.
Creation of an investment memorandum. Investment memorandum – a document containing information necessary for investors to make a decision, such as price per share, number of shares, the direction of use of funds, dividend policy and so on.
Launching an advertising campaign. This stage is very important since the success of attracting potential investors depends on the quality of the advertising campaign. A promotion action plan is also developed and stored in a virtual data room, pre-setting access levels to folders and users. The main task is to provide the main indicators of the company, the prospects and features of the placement of shares.
The main IPO stage
During the main stage, the actual collection of applications for the purchase of offered securities takes place.

The final IPO stage
The final IPO stage is the beginning of the circulation of securities. The company analyze the effectiveness of the IPO, develop the future strategy, and sign the agreements. With an initial public offering, companies need more than just plain storage. Initial Public Offering process is one of the most confusing circumstances. Lawyers, accountants, staff, an investment bank and many other specialists need a place for safe cooperation and the collection of all business data. Due to the fact that IPO requires a lot of specialists working together, traditional dataroom does not satisfy all business needs. IPO management teams choose modern software in order to solve several issues using only one digital solution.