How to choose the right VDR provider for your needs
Determine your abilities
Choose the features you need
Define your budget
Compare Virtual Data Room providers
Analyze the credible software review sites
Debate the potential vendor's services with its support department
Take advantage of the free trial period
Negotiate the agreement
While some of these steps may sound obvious, each of them plays a crucial role in the decision-making process and it is always better to have a check-list in front of your eyes.
Determine your abilities
Understanding that you are in the need of the virtual data room is not enough. In fact, it should be a much deeper process that includes answers for the following list of questions:
Do you need the virtual data room service for the data storage only or there may be other purposes?
What is the approximate number of users that would be there?
Does your organization has a technical department that will handle all the software and hardware installation issues?
What sorts of workflows there in your company?
Do you need the VDR services to be integrated into your systems or streamlined?
What is the amount of storage do you need?
What sort of documentation do you need to be stored?
Which team members will be using the data room?
Only when each of these questions has a complete and exhausting answer, you will be able to proceed to the next step in the choice decision-making process.
Choose the features you need
Since you have already conducted market research, you should already know that there numbers of big players. However, each and every vendor supplies its clients with a different set of features which may vary. Usually, these sets may consist of:
Security & hosting
Accessibility & ease of use
File protection & user management
Collaboration
Customization
Customer support
Training
Deployment & availability
Trial & pricing
It is important for you to have a clear understanding of what it actually is, that you are willing to purchase. There has to be a balance between the variety of services you buy and the amount of money you spend.
Define your budget
Just as always, you need to realize what amount of money you are ready to spend on this or another purchase. The virtual data room is nothing different in this case. Set your budget, keep to it, look for the VDR provider that will satisfy your needs and fit into your budget. Usually, online data room prices vary depending on the following aspects:
Number of users
Storage size
Number of documents
Available features
Exploitation period
A flat rate
Although vendors have to be transparent on their pricing policies, sometimes it gets tough to find the exact numbers without contacting the support department. While it is a great chance to hit two birds with one stone – find out what the prices are and check the quality of the service that the support team provides; sometimes it is preferred to postpone the contact for later times.
Compare Virtual Data Room providers
What Do We Consider Choosing The Best Data Rooms?
What Is The Difference Between Virtual Data Room Providers?
There is a variety of VDR providers on the global market. On our site, you can consider the traditional VDR providers such as Intralinks, Merrill Datasite. And you have the opportunity to review the advantages of virtual data room market leader iDeals and Firmex. In order to determine the most suitable for your needs, you should consider such distinguishing features as:
Range of Security Services / Certification Guarantees
Industry Licensing / Provider specialty
Server Location
Customer Support Quality
Pricing Policy
Variety of Access Level
Storage Limitation
Platforms Integration
The Reputation of the Provider on the Global Market
Trial Period and Demo Version Availability
So, apart from the reviews, one has to pay close attention to the following list of criteria when choosing a virtual data room provider. All of this information is systematized and presented on the review websites or it should be found on the official website page of the prospective vendor.
While every single item of the list seems to be an inseparable part of the virtual data room, not all of the service providers deliver these to their customers in its full potential or, sometimes, even don't deliver at all.
For instance, some data room vendors will supply their users with a simple log-on authorization system, while others will install double- or even triple-level access technology. Also, it is important to have the service provider to be always ready to answer all of the questions even after when the purchase is made, rather than only before. Apart from that, decent service providers will never hesitate to let a prospective customer try the product for a short period before making a purchase decision.
It is very important to have a complete and clear picture of the future VDR vendor before entrusting a stranger with all the sensitive data one can have. All one has to perform to find the right service provider is proper research.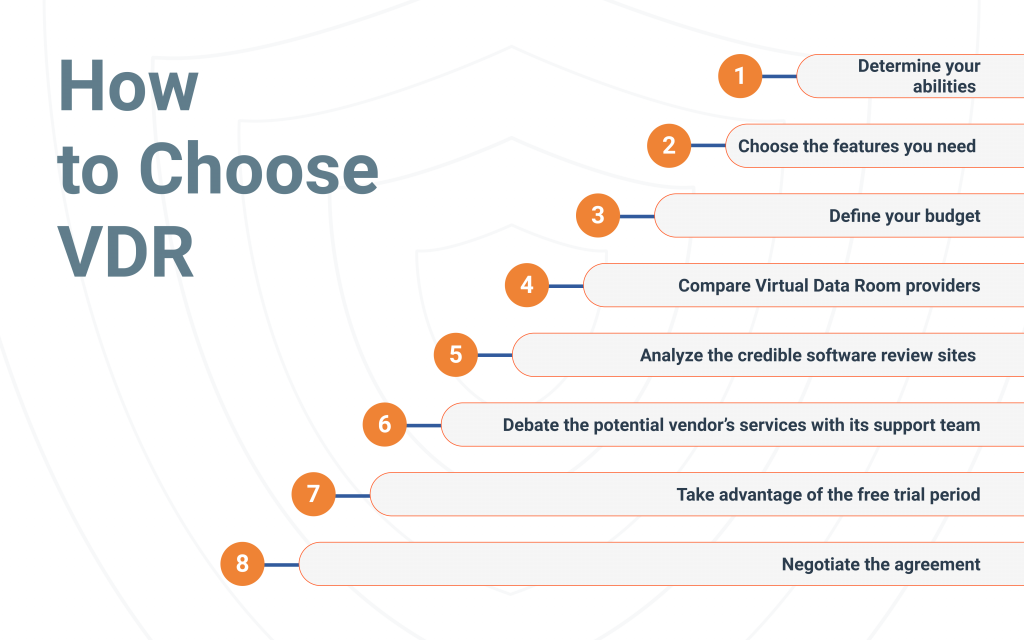 Analyze the credible software review sites
There is plenty of review websites out there. In order to choose the best virtual data room provider, you should analyze a range of independent resources. On other platforms, we can find dataroom provider ratings on the profile pages. Here is a list of credible review services, which we analyze in order to determine the top-rated providers:
virtual-data-room.org
capterra.com
datarooms.org
featuredcustomers.com
g2.com
getapp.com
softwareadvice.com
sourceforge.net
These websites value their reputation and they keep a close look at their users and posts they publish.
Debate the potential vendor's services with its support department
When the researching part is over, and there are a couple or more vendors that do interest you, a good idea would be to contact the support team of each of these vendors.
While communicating with the support team, pay a close attention to how fast does person respond to you, how professional the representative is in terms of online data sharing, how good does the agent knows how the product works, and other details.
It is important because as soon as you make a purchase, the support department will be the only one that will be communicating with you ever since.
Take advantage of the free trial period
Always use your resources to the maximum, and in this case, it means to try the virtual data room for free for a limited amount of time. Firstly, only a decent service vendor will provide their potential customers with a free trial. Secondly, this is a great chance for the customer to get familiar with what an online data room is, in case if this is the first encounter with the virtual data room.
Moreover, a free trial will give you a clear understanding of the features there are, how easy to use the VDR software of this exact vendor, how much the personnel of the vendor is willing to help its customers eliminate any appearing issues, and more:
Are they visually appealing?
Is the interface is modern?
Is the user interface is easy to navigate?
Does the VDR provide solutions to your needs?
Only when you did the research and went through the free trial, you can be a hundred percent sure that the choice you are making is right or wrong.
Negotiate the agreement
This is the very last step in the virtual data room hiring process and this is the point where you can debate the final price, a period of service provision, and the number of features included. Usually, there is not much room for negotiation, since the prices are fixed, however, there are cases where a big order has been delivered with a substantial discount.