How to Prepare Data Room for Fundraising?
VDR is software that is used for different business purposes. Virtual data room for venture fundraising has a special structure, which is the most convenient for potential investors and limited partners. A fundraising data room is used for organizing the necessary information about the company on the one highly secure online space in order to ensure effective communication with prospective limited partners (LPs). Tech flexibility and ease of use of online data room software facilitates and improves the effectiveness of the fundraising process and solves the issues of the exchange of confidential data and anytime access from anywhere in the world.
In order to highlight professionalism and attract more partners, companies choose VDR business software that is well known as the most secure online platform for document flow. After you choose the best virtual data room provider for your business, you should follow several simple steps of preparing the fund data room:
Set up data room software.
Organize a convenient structure of virtual data room for fundraising.
Upload the documents according to the fundraising checklist below.
Set the access rights to all potential users.
Send a unique access link for fundraising data room to limited partners, investors, or other 3rd parties.
Conduct the fundraising: keep the discussion within the virtual data room, track activity, sign the agreements.
Systematically update the relevance of the documentation and check the relevance of user access levels.
What Should Be in an Investor Data Room?
The fundraising checklist contains a list of basic documents that need to be loaded into VDR and segmented according to the indicated categories for the convenience of limited partners (LPs). Gather all documentation according to the following fundraising checklist and upload all the files to your online data room according to the sections: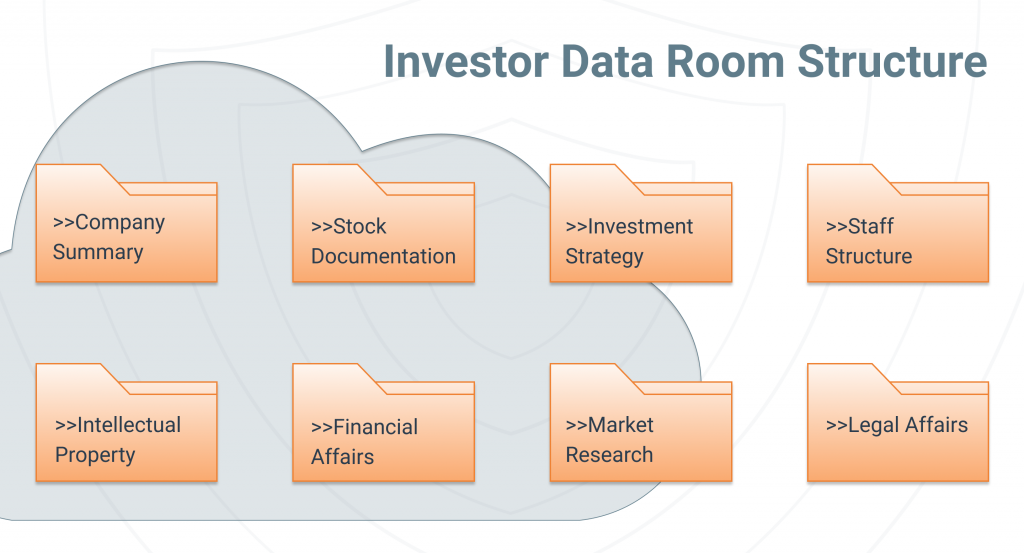 Company Summary
Strategy
Branding guidelines and vision
SWOT analysis
Disaster recovery plan
Interest-bearing of a private equity
Sales process pipeline
Stock Documentation
Institutional Limited Partners Association compliance
Socially Responsible Investment policy
Private Placement Memorandum
Environmental, social and corporate governance policy
Private Placement Memorandums and Schedule of previous funds
Due Diligence Questionnaire
List of key contacts
Investment Strategy & Process
Voting agreements
Investor rights agreements
First refusal & co-sale agreements
Stock purchase agreements
Preliminary and Final Investment Recommendations
Incomplete investment chart
Investment Guide
Capitalization table
Investment/ exit LP notification
Compensation Agreements
Staff Structure
Organization structure chart
Team Summary (employees, titles and salaries)
Staff turnover
Employee agreements
Future hiring
List of contractors
Intellectual Property
Granted and filed patents
Trademarks
Intellectual Property strategy
Financial Affairs
Profit and loss statements
Pro-forma statements for next year
Projections
Management company budget
Quarterly and annual plans
Internal Reporting Portfolio
Market Research
Competitive market analysis
Internal Market Reports
Third-Party Market Reports
Legal Affairs
Long Term Power of Attorney Project
Non-disclosure agreement
How Does Using VDR Improve the Fundraising Process?

Using modern electronic data room for venture fundraising you not only optimize your business processes but also position yourself as a professional partner for your potential investors. In the process of communication with investors, you send a unique link to access your fund data room, where a potential partner can get acquainted with all the necessary information about your activity, ask questions and make a decision on cooperation. This method of communication significantly optimizes working hours, as all the necessary documentation is in one place. The function of categorizing folders ensures the easy search of the necessary documents for future limited partners.
It is not recommended to use free cloud services for storing and sharing confidential information. First of all, using Google Drive or Dropbox does not guarantee the confidentiality of data. Virtual data room software is the best data room fundraising tech that provides Granular Permission Settings, Two-Factor Verification, Fence View, and many other functions that ensure high security. Learn more about the security standards of VDR software.
Personalized customization and intuitive interface ensure the effective cooperation between companies and investors or limited partners. The opportunity to create a unique folder structure facilitates the user experience and ensures easy navigation for investors. In the fundraising data room software, you can set up the right of protected viewing, read-only rights for the 3rd parties in order to prevent the downloading or editing of confidential data.